Tours of the city / in detail
---
Strolling with Shakespeare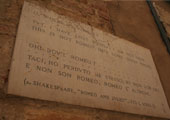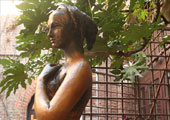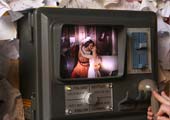 Through the historical centre of Verona, with its crenelated towers and its inner courtyards and well-curbs, hovers the spirit of William Shakespeare (British by birth but Venetian by choice) who gave Verona universal fame as a romantic city.
The two young lovers, Romeo and Juliet, are still – incredibly! – alive in the hearts and minds of those arriving in Verona. Like travellers of bygone times, we will visit the 14th century spots of Verona that acted as background to the most unfortunate and yet most famous and represented love story in the world. Will love until death, passion and courage, tenderness and dedication ever fall out of fashion?
We will visit:
- Juliet's house (interior)
- Romeo's house (exterior)
- the Mercato vecchio courtyard
- the church of S. Anastasia (exterior)
- the surroundings of the Borsari gate
- William Shakespeare's bust
- Juliet's tomb (interior)
The tour lasts 3 hours.
---