Tours of the city / in detail
---
Verona's frescoes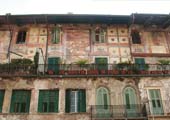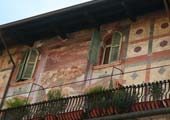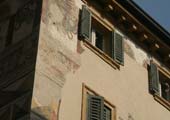 "Stirring and impure, Verona is vibration, radiation, colour, art transformed into landscape and merged with the landscape, a mirage of a romantic city". (G. Piovene)
On the many facades of Verona's frescoed houses, colour becomes the adornment of streets and squares, transmitting their joy and vitality to the city. For Renaissance families, having the facades of their homes frescoed was a strong status symbol, a way of flaunting their wealth, their good taste and their learning.
The tour will visit houses in the city's centre as well as some on the outskirts, but in all cases decorated by maestros of the art. Indeed, Verona's artists for centuries led the way in the art of wall-painting, setting up busy workshops often handed down through generations and much sought after by rich clients.
The tour does not include visits to the interiors. The facades we have selected for your enjoyment are:
- the Giolfino house
- the Trevisani Lonardi house
- Palazzo Miniscalchi Erizzo
- the Mazzanti houses
- Palazzo Guiotto
- Palazzo Bentegodi Ongania
- the Pasquini house.
The tour lasts 3 hours.
---