Tours in Verona's environs
---
The morainic hills of the upper Mincio: Borghetto and the Sigurtà garden park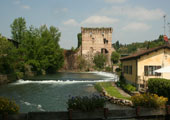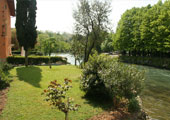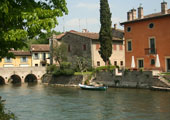 South-West of Verona, in the southern area of Lake Garda, the ancient glaciers that formed the lake left their mark on the land as concentric rings of hills that, like drops in water, rhythmically and regularly fade towards the plain, crossed through by a river called the Mincio, a small effluent of the great lake.
This is the natural stage that was criss-crossed from north to south and from east to west by the Romans and the Longobards, the Scaligeri, the Visconti and the Venetians, leaving traces of their passage in the form of military artefacts, such as bridges and castles, and of anecdotes and traditions.
At the ford of the Mincio river now stands Borghetto, one of Italy's most charming villages, graced by water mills, pristine vegetation and the glorious bridge of the Visconti.
We offer two itineraries, one 2 hours long and the other 4.
The 2 hour tour includes a visit to Borghetto, its "Visconteo" bridge and a walk to see the remains of the Valeggio castle from which the view stretches out to the surroundings of Villafranca, site of many episodes and battles of the Italian Risorgimento.

The 4 hour tour, in addition to the visit to Borghetto and the "Visconteo" bridge, includes a visit to the Sigurtà garden park, abounding in tree and flower species, guarded by a centuries-old oak and boasting the legendary boxwood sculptures pruned by expert gardeners into bizarre and surreal shapes.
This tour is best ended with a lunch featuring Verona's famous tortellini, called "Nodi d'amore" (love knots).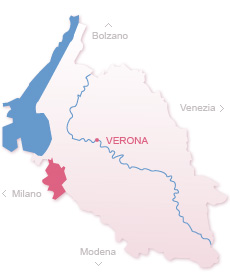 ---