Tours of the city / absolute musts
---
The "laughing San Zeno"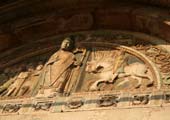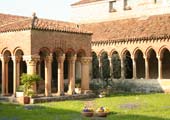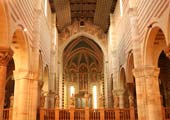 The tour begins in the square of the church dedicated to the patron saint of Verona, Saint Zeno, defined and hemmed in by the facade, the bell tower, the abbey tower and the San Procolo chapel.
The exterior of the church is a veritable puzzle of icons and messages, where the time of God and the time of men intertwine and marvellously cohere. Conversely, the interior combines imposing dimensions with an unblemished sense of intimacy and meditation.
Saint Zeno holds some of the city's most important artistic artefacts, such as the bronze doors depicting stories from the Old and New Testaments and Andrea Mantegna's gold and brilliantly coloured altar-piece. A more folkloristic note is provided by the patron saint's statue that bestows a gentle and friendly smile on all its visitors.
The tour ends with a highly panoramic walk along the Adige river all the way to the castle of the Scaligeri family.
These are the places we will visit:
- the San Zeno cathedral (interior)
- the square and the ancient town centre of San Zeno
- Rigaste San Zeno
- view of Castelvecchio (exterior) and of its bridge
The tour lasts 3 hours.
---